Major Millions iPhone Slots Game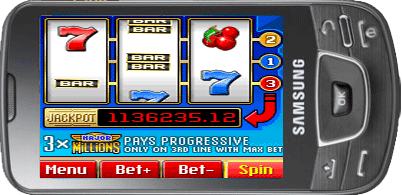 Click to Play Major Millions iPhone Slots

Major Millions is a three reel, three pay line and three coin progressive slots by Microgaming.
The minimum bet is $1. The maximum bet is $3. The progressive jackpot resets to $250,000 each time it is hit. And usually climbs as high as $1 million at times.
The jackpot is won if you hit three Major Millions symbols on the third pay line You can also win $25,000 for hitting three Major Millions symbols on the first pay line or $50,000 for three on the second pay line The Major Millions symbol is also a wild symbol and multiplier. If it is in the pay line once it doubles the win or if it is in the line twice, your winning is multiplied by four times.
Play this iPhone Casino Game at Royal Vegas Mobile Casino
Software: Spin3 / Microgaming